Learn how to create appealing characters At your own pace with personal feedback on your progress
The Appeal Academy is not your traditional online course. It's also a Mentorship, providing personal feedback crafted specifically for you and no one else. With each assignment that you complete, you will receive a personalized 30+ minute feedback video to help you push your character even further. By the time you go through the entire course you will have received close to, if not over, 6 hours of personal feedback. Content that is crafted specifically for you and your progress.
After signing up for the Appeal Academy you will immediately receive access to all Appeal Academy lectures taking you through creating an entire character of your choice.
At the end of each lecture you will be provided an assignment to progress you through the steps of creating a character from beginning to end.
After submitting your assignment you will receive a hand crafted feedback video on your progress, giving you actionable steps to take your work to the next level.
At each stage of the course you will learn and practice new foundational design principles and the fundamentals of appealing form.
By the end of this course you will confidently flow through the steps of blockout, refinement, and polish.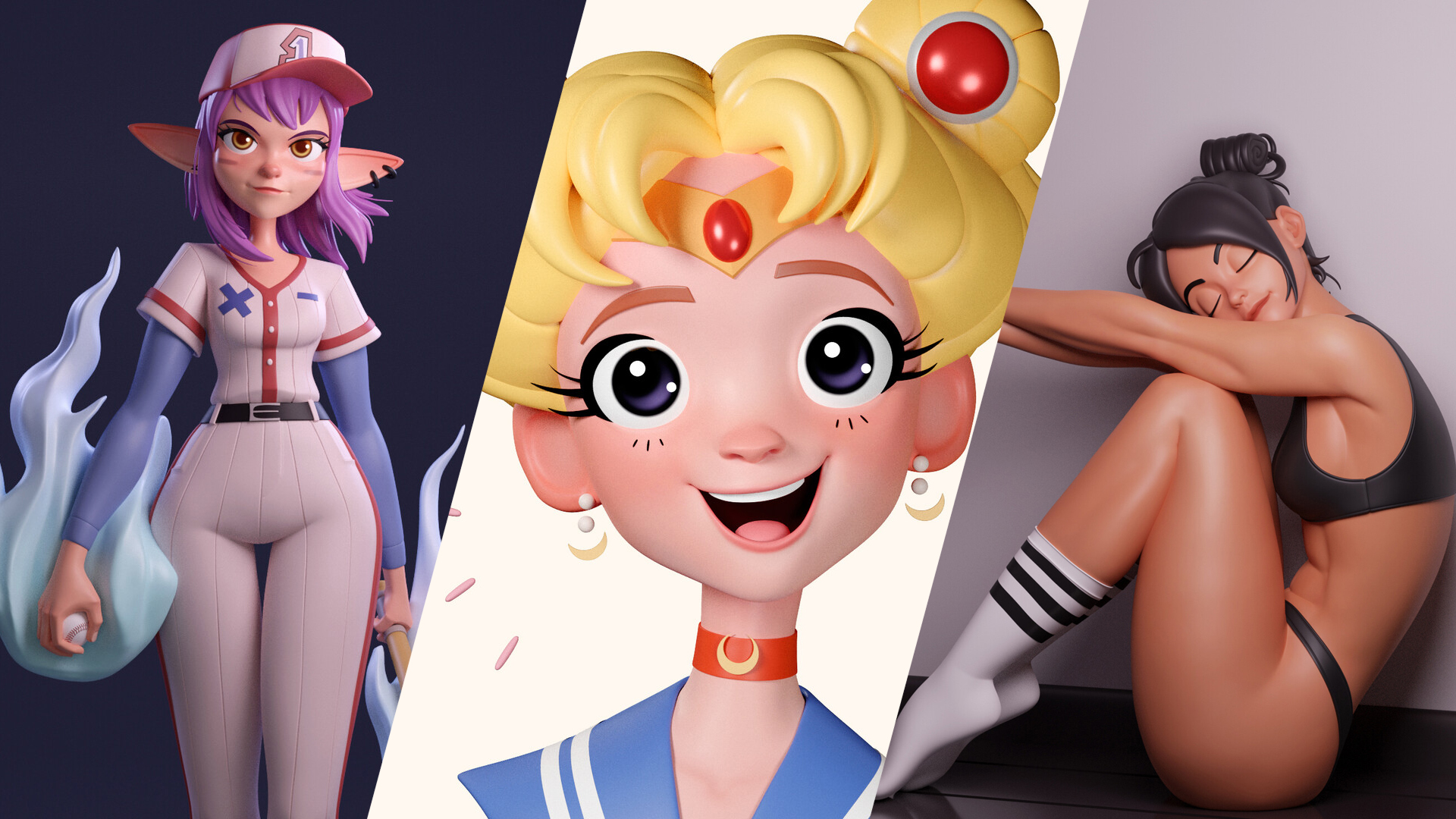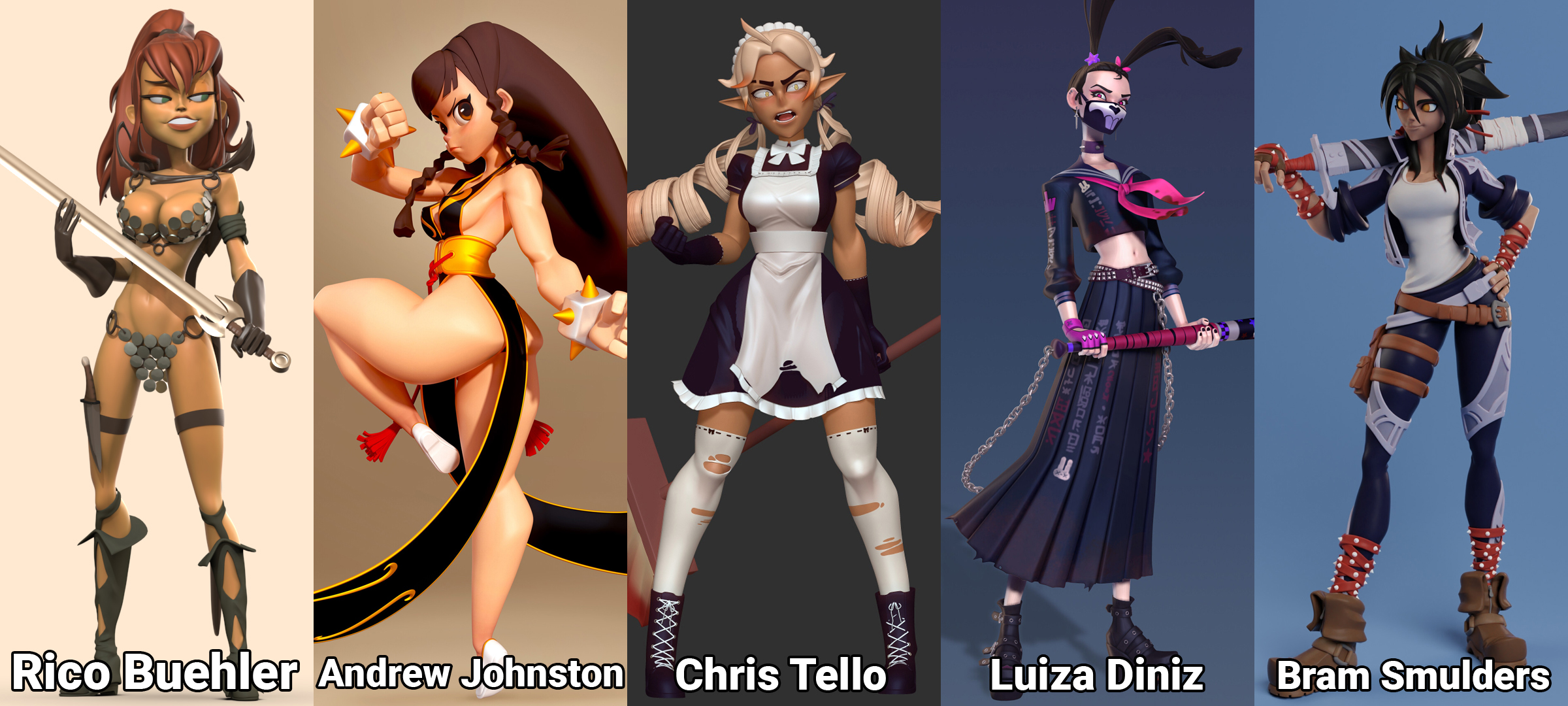 Self paced lectures taking you through creating a character from start to finish. Go through the lectures at your own pace and submit your character for review when you are ready.
Improvement focused assignments that will result in a polished 3D character.
Receive close to, if not over, 6 hours of personal feedback footage that is crafted specifically for you and your progress.
Lifetime access to all lectures and mentorship sessions.
Lifetime access to all bonus lectures from an ever growing library of content.
Lifetime access to the Appeal Academy's private Discord group.
"I've done 5 years of Visual Art for games, but looking back I found there was incredibly little on how to make proper art. Mostly software and teamwork, but little to no art fundamentals. I never really knew why things looked right sometimes and why it didn't. Ben made me learn more about art in a few months than school did in 5 years!"

Bram Smulders

https://www.artstation.com/bramofzo
"It just felt like a privilege to have so much time dedicated to me, when most online instructors average around 5-20 minutes max. Usually just 5. Ben speaks down to earth, and doesn't have a holier than thou mentality. I greatly appreciated every feedback, where Ben answered questions specific to my concerns. Thanks for everything, this course set a new standard for online instructors."

Rico Buehler

https://www.instagram.com/left4c3p2d1
"Having an expert look at the specific mistakes I'm making, not only in the forms of the character, but from a workflow perspective, was invaluable. It's always frustrating when a tutorial or lesson you find online will take you through a very specific set of actions to get a result; having someone with a deep knowledge of this process look at MY project and MY issues was incredibly helpful."

Chris Jennings

https://www.artstation.com/chrisjngs
"It was amazing to be blocked or unsure how to proceed and then have Ben jump in and show me options on how he would go about next steps. I learned so much this way."

Andrew Johnston

https://www.artstation.com/artdrew
"Even though the lectures are great, for me, the course was even better for the mentorship aspect it had. Personal contact and feedback were more important for me. I believe that having a project is great because you can apply what is learned and improve upon it. Also, you finish the course with a new portfolio piece."

Luiza Diniz

https://www.artstation.com/luediniz
"I learned a ton from Ben and enjoyed the course a lot. He is a great teacher, keep up the good work!"

Chris Tello

https://www.artstation.com/iase
"Before this course I was looking at a few different ones which mainly focused on creating a specific character. I liked the fact that in this course it was about picking a character that you wanted to make as well as it being a mentorship from the man himself. This just adds to the learning process as you get specific feedback on what you are doing right and wrong. I enjoyed this very much I will say out of all online resources this is up there as one of the courses I learned the most from, keep up the good work."

Joshua Carty

https://www.artstation.com/carty_001
"Its useful to get a professional's opinion on what you are doing since there are things that you do wrong or seem wrong but you don't spot them or know you did them. And as someone who's never done a character before, it comes in handy to see what you did well and what needs fixing."

Caleb Moore

https://www.artstation.com/ceramicram
Ben De Angelis "Follygon" has a background in sculpting appealing characters for toys and life size figures for production in a variety of styles. Ben has worked on such IP as Pokemon, Barbie, Ghostbusters, Shrek, Hotel Transylvania, Madagascar, Flintstones, Clash of Clans and many more. He's done heavily stylized characters such as the Looney Tunes, and as realistic as life-like pilots for the Museum of Flight in Seattle. Now Ben works as a freelancer and enjoys spending his free time creating content for others that enjoy digital sculpting. You can see more of Ben's work at artstation.com/Follygon or YouTube.com/Follygon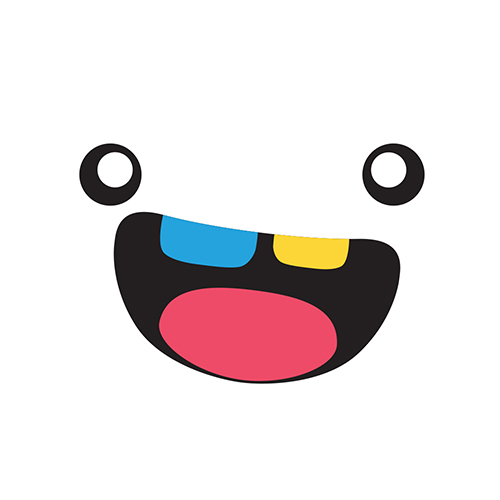 Looking for more of Follygon's ZBrush courses, brushes, materials, and more?
Click the button below!
Online Store